In true Google fashion, their new Google+ service is currently in an invite only beta. A friend sent me an invite, so I decided to give it a try.
At a glance, it isn't that different from other social networks you may already be using. It has a lot of the same functionality as Facebook, but without the millions of Farmville requests you are probably used to seeing (you can mute those, by the way).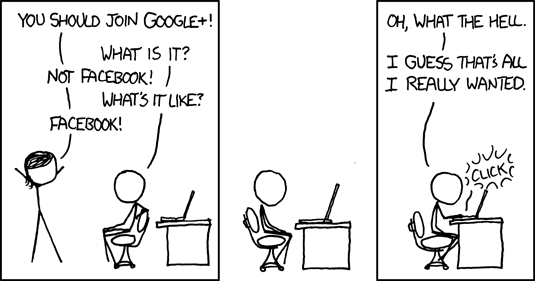 (Image credit goes, of course, to XKCD)
The thing that I really like about the new service is the way it allows you to organize the other users you are following, and directly related to that, who sees what posts.
Your friends are organized into circles, which you can name and organize yourself. When you go to create a post, you choose if the post is public, or if only specified circles are allowed to see it.
The same goes for the feed you see. You can look at the combined feed of everyone you follow, or click on a specific circle and only view that feed.
My favorite part is that no one else can see what circles you have organized people into, or even what you have named those circles.
I've been wanting to dump Facebook for a while now. I am not a fan of the changes they have been making to the site over the last couple of years, and I really don't like their privacy policies that seem intent on screwing over their users.
The only thing Google+ is currently lacking to meet my needs is the launch of the iPhone app (which is marked as "coming soon") and Twitter integration.
Even if you are rolling your eyes going "not another social network", I would recommend at least giving Google+ a try.
14 July 2011